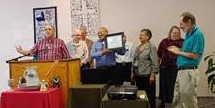 On September 22, 2019 Light of Life Mennonite Church of Farmington, New Mexico held a special Commissioning Service for Winfred Kurley. Win, who has recently retired from his career as an electrician for a local mine, has been sensing God's call to a more focused ministry. He is passionate about the Word of God and has a burning desire to help others read and understand the Bible. He has an active Facebook outreach, assisted in moderating a community Bible Study, and seeks opportunities to share his vibrant testimony with anyone he can. In addition, Win is the Administrative Elder at Light of Life.
After conversations with Pastor Phil Rosenberger of Light of Life and with Conference Minister, Howard Keim, it was agreed to hold the Commissioning Service to underscore our support of his ministry efforts and to encourage him toward continued growth. Howard Keim attended the service along with numerous friends and family members.
When we ask to be shown our calling or next step in life, God answers. All we need to do is listen and heed. Thanks be to God for Win's call and ministry in his community!
Phil Rosenberger Pastor, Light of Life Mennonite Church